October 3, 2018
THE IMPORTANCE OF THE BEDSIDE MANNER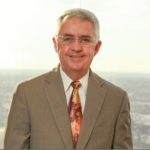 I'm old enough to remember when doctors made house calls.  When I was a child, our family physician, Dr. Dismukes, would come to our house to care for my mom or dad or me.  He toted a large black medical bag which carried his stethoscope, his otoscope, and tongue depressors.
Dr. Dismukes always greeted us with a warm smile.  He treated us in our family living room.  We trusted, respected, and admired him.
Doctors don't make house calls anymore.  They see their patients in clinics, hospitals, nursing homes or other care facilities.  In this era of highly specialized medicine, some doctors never see their patients at all, or see them only in the setting of a brief visit on a referral.  And as telehealth and distance caring evolve, the opportunity for doctor-patient interaction may dissipate even more.
But wherever a doctor sees his or her patient these days, what was once called a physician's "bedside manner" is critically important, particularly in enabling a physician to avoid a healthcare liability lawsuit.
Having represented doctors for over 40 years, I have time and time again heard the same story when I take the deposition of a patient who is bringing a lawsuit against a doctor.  "He never took the time to listen to me," they often say.  "He would just barge into the room, briefly examine me, make a note in my chart, and leave."
I've heard many other patients testify, "The doctor was very impatient with me.  She wouldn't answer my questions.  She seemed to be in a rush."
It is understandable why so many physicians often have a poor bedside manner.  They are stressed-out and over-worked.  And many of the questions we patients ask no doubt come across to a doctor as at best ill-informed, or at worst, downright stupid.
But the truth of the matter is the most important thing a physician can do to avoid a healthcare liability lawsuit is to always convey compassion and empathy to his or her patient.  Make direct eye contact with them.  Ask them questions, and answer their questions.
Convey at all times that you care about them, are concerned about them, and that you and your fellow healthcare providers are doing everything you can to resolve their health issues.
Complications and untoward results often happen in medical care.  Medicine is an art, not an exact science.  But patients who encounter such complications will be much more understanding and reticent to sue if their physician has demonstrated to them a caring bedside manner.
malpractice
and tagged
bedside manner
,
malpractice
,
telemedicine
. Bookmark the
permalink
.