May 14, 2019
Violence in the Healthcare Industry
Healthcare professionals face significant risks in the workplace.  The obvious risk of providing insufficient or ineffective medical care sometimes overshadows a lesser-considered risk: the potential threat of violence at work.  Often, healthcare facilities attract guests whose mental state and drug dependency are not readily apparent.  OSHA has indicated that from 2002 to 2013, "serious workplace violence incidents" occurred over four times more in healthcare industries than in private industries. https://www.osha.gov/dsg/hospitals/workplace_violence.html
Numerous Tennessee lawsuits have been filed stemming from violence in healthcare facilities.  For example, in one case, a plaintiff alleged a mental health patient was permitted to walk around a healthcare facility without supervision.  He attacked another patient, ultimately leading to the patient's death.  In another case, a security guard alleged a nurse ordered him to remove handcuffs from an intoxicated patient.  The patient then attacked the security guard.
OSHA's "General Duty Clause" provides that an employer must provide a place of employment that is "free from recognized hazards that are . . . likely to cause death or serious physical harm" to employees.  29 U.S.C. §654 (1970).  Tenn. Comp. Rules & Reg. 1200-08-01-.07, "Optional Hospital Services," provides '[if} a hospital provides psychiatric services," among other requirements, the hospital must provide appropriate protection from "any physical injury resulting from a patient becoming violent."  Tenn. Comp. Rules & Reg. 1200-08-01-.07(11).  The same language applies to optional alcohol and drug services.  Tenn. Comp. Rules & Reg. 1200-08-01-.07(12).  Regardless of the type of services rendered, there are steps each healthcare practice can take to decrease the risk and/or the effect of violence.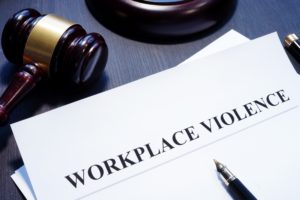 DEVELOP A SAFETY PROGRAM
Create a program focused on preventing and properly addressing workplace safety, and specifically, workplace violence.  Appoint a committee and hold members accountable for program improvements and changes.  Make the planning and implementation process interactive, so that employees feel comfortable voicing safety concerns.
TRAINING
Integrate workplace safety into employee training.  Prioritize prevention and reporting of workplace violence, including reporting of perceived threats of violence.  Educate employees on the protocol in the event of a violent incident.
SECURITY
Consider increased security measures, including additional lighting, security guards, cameras, and metal detectors.  Post notices relating to protocol in the event of an incident of violence.  Train front-desk employees to request patient histories, recognize risks, and notify the proper supervisor and/or authorities.
REPORTING
Document and keep thorough records of incidents or threats of violence, including taking detailed employee statements.  Fully investigate each reported incident, and evaluate whether improvements can be made to the program.
Employees
. Bookmark the
permalink
.